So, you want to harness the ideas of your employees and have been thinking of using idea management software? We love that. After all, we believe employee ideas are the secret to business success.
But how do you know if now is the right time to get the software? How do you differentiate between vendors? And how do you identify which features are most important?
This guide will help you to find your answer. If it turns out that now is the right time, you'll be empowered to identify your perfect software. And if the best approach for you, to begin with, is to bootstrap, we'll point you towards some useful free resources to get your initiative off the ground.
---
What is idea management software?
Companies know that their employees have unique insights about the business and that great things can happen by implementing their ideas. After all, the Sony PlayStation, Amazon Prime and even Post-It Notes all started as employee ideas!
The solution? Idea management. It's the process of generating ideas, identifying those with the most potential, and implementing the best ones, all in a way that wouldn't have occurred using the normal processes.
The first idea management tool to emerge was the suggestion box in the early 1900s. The suggestion box was great for generating ideas but lacked a process for identifying and implementing the best ones.
The first idea management tool to emerge was the suggestion box in the early 1900s. The suggestion box was great for generating ideas but lacked a process for identifying and implementing the best ones.
In the late '90s, physical suggestion boxes evolved into electronic ones. This is when idea management software was first introduced.
Idea management tools
Innovation management tools consist of vendors offering technologies that help organizations to streamline their innovation programs. They include idea generation, continuous evaluation, and enable selection of ideas based on business value and risk. They also manage the process of taking initial ideas to their final realization and commercial exploitation – Gartner
Employees could now submit their ideas using a form or email. And whilst the high level of engagement found with physical suggestion boxes was retained, so was the lack of process in place for companies to carry ideas forward.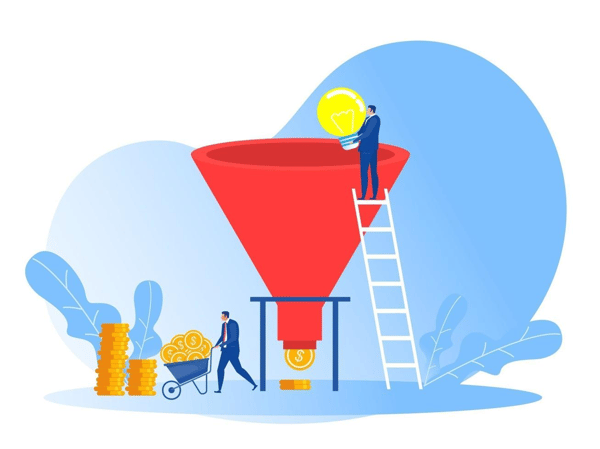 Idea management software then matured in the early 2000s as dedicated idea management apps were born.

These apps introduced a shiny front-end for employees to submit ideas on, and a back-end for companies to manage these ideas.
Crucially, for companies running employee idea initiatives, it became possible to filter, manage and identify the ideas with the most potential, all via the use of idea management software.
---
What is integrated idea management?
Whilst these idea management apps are great in principle, they can often fall short when it comes to engagement. Put simply, it's very difficult to get employees to install, login, and learn to use yet another app.
To have a chance at successfully gathering ideas, companies using idea apps need to massively invest in change management, communications, and engagement. That's a lot of effort.
The average app loses 77% of its users within the first 3 days, then 95% within 90 days. Source: CIO
So, what would the perfect idea management software look like? It'd need to combine two things.
The high engagement found with suggestion boxes.
The high-level of process found with idea management apps.
Enter: integrated idea management software.
This software is similar to idea management apps, but they integrate directly with the communication channels that employees already use, such as Microsoft Teams, Yammer, Workplace from Facebook and Slack.
Did you know? 80% of collaboration efforts fail due to a lack of engagement – Gartner
These integrated idea management software tick all the boxes for a great idea management tool. Employees submit their ideas where they're already collaborating, so plenty of ideas are gathered.

Those ideas are then fired into the integrated software, where a dedicated team can filter, manage, and identify the ideas with the most potential.
Integrated idea management
Integrated idea management is an approach to listening to ideas by using pre-existing tools and software, rather than a dedicated idea application. All the ideas collected are then fed into a single software where they can be filtered, reviewed, and managed accordingly.
---
Do you need idea management software?
For many, it can seem cost-effective and straightforward to build an in-house idea management software. After all, how hard can it be?
But as you read above, idea management systems have been through a century-spanning evolution, meaning that today's software has incorporated a plethora of learnings and improvements to ensure ideas can be managed effectively.
By simply not having the time to make software of the same caliber, in-house solutions run the risk of falling short in their ability to gather ideas, manage them, and bring the best ones to life.
Idea management software providers have amassed a wealth of best practice knowledge. So tap into it. Harness it during your onboarding, and with professional services, to set yourself up for success.
At best, skipping out on that knowledge will mean you spend months or years learning the same lessons. At worst, it'll mean your employee ideas initiative will fail.
Pro-Tip
Software providers will likely structure their pricing based on the number of employees you want to engage, how many communication tools you want to integrate with, and how many campaigns you want to run to gather ideas.
So, "Is now the right time to get idea management software?" Seeing as you're reading this article, you're likely considering that exact question!
The decision tree below will help you with the decision. If it turns out that it might be best to wait, we'll point you towards some free resources to help you to bootstrap your employee ideas initiative (linked at the bottom of this article).
If now is the right time, then in the next section we'll help you understand what you'll want to consider to successfully choose between vendors.
---
Finding the right idea management software for you
So, you're confident that now is the time to get idea management software.
But how do you find the right one? It's a 2 step process:
1) Understand the key features of idea management software to look for;
2) Compare different idea management software vendors;
Let's start with step one and look at those key features.
Step 1

| Key features of idea management software
Great idea management software will have features that enable you to capture ideas, manage them, shortlist the best ones, then implement the selected ideas.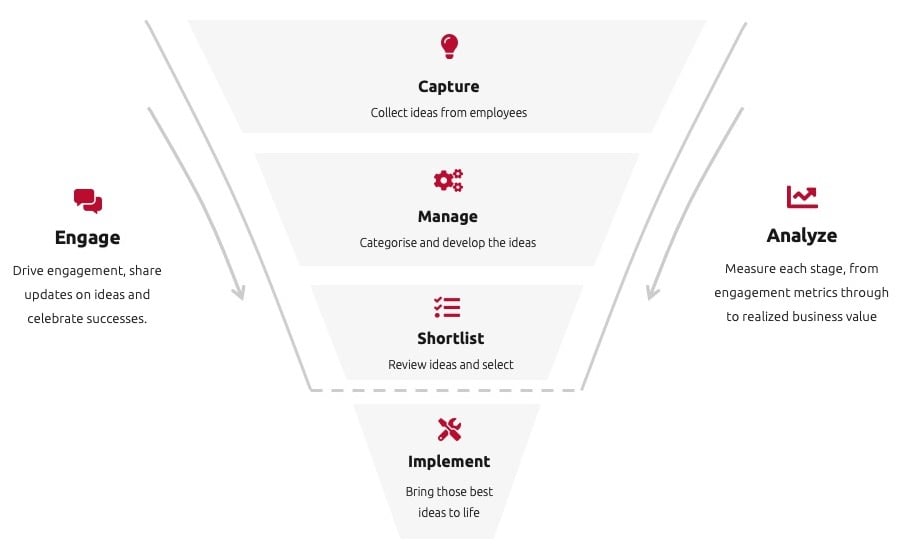 All the while, making it easy for you to engage your audience and analyze your success.
---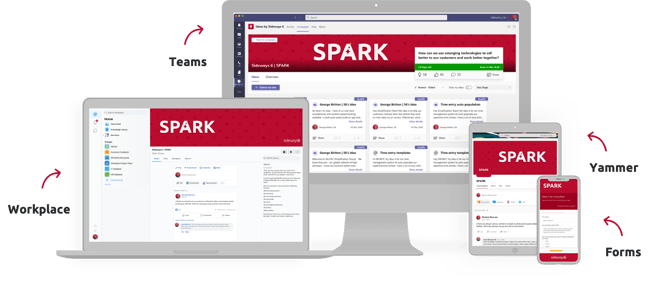 1)
Idea submission

features

To be successful, you need to make it simple for employees to submit ideas.

That way, when deciding which ideas to take forward, you'll have a greater pool of innovative ideas to choose from. How to get there? Look for these features in software:
Integrations - can your employees submit ideas where they're already collaborating? Look for software that offers integration with your collaboration tools like Microsoft Teams, Yammer, Workplace from Facebook, and Slack. With 80% of collaboration efforts failing due to a lack of engagement, as reported by Gartner, the software should reduce friction for employees to submit ideas.
Submission forms - virtually all idea management software will offer a type of form for idea submission. Even if you're taking an integrated approach it can be worth considering a form as well to broaden your reach beyond those people active on the collaboration tools. Look for forms that can be customized - with submission criteria chosen by you - and that can be embedded anywhere you want or need them to be.
Chatbots - does the software offer them? Chatbots allow you to ask customized questions to employees when they submit ideas. They gather more information from submitters, enrich their ideas, and empower you to make a more informed decision on which ideas to progress.
---
2)
Idea management

features

You've launched your employee ideas initiative, your audience is engaged, and you've captured a tonne of great ideas. Next, you'll need to qualify, categorize and progress those ideas.

Receiving ideas, but not being able to manage them, is no fun. So look for these software features to help you:
Pipeline - great software helps you progress ideas from qualification to implementation. Look for software that allows you to set custom pipeline stages, categorize ideas and qualify them. It should be easy to see all of your ideas in one place - does the software allow you to easily sort, filter, and action ideas? The view of ideas should also be customizable.
Actions - there are some that you'll be doing every day. So the software should make them low-touch. You'll be wanting to combine similar ideas to streamline your pipeline. So look for software with idea merging functionality. You'll probably also want to send communications to certain idea submitters. So make sure the software allows you to send comms at an idea level. Finally, you're likely to want to categorize ideas. Great software will allow you to add custom tags to ideas.
Automations - you should be left to focus on bringing ideas to life. The software, on the other hand, should be able to automate day-to-day tasks. Those automations should be customizable and perform certain idea management tasks, based on specific inputs. For example, if the idea submitter is from a certain department, send the idea to a specific stage in the pipeline. Or, if the idea has received 10 likes, then send a congratulations message! So, identify the software's automation capabilities. What actions does the software allow you to automate? What can't be automated?
---
3) Idea
shortlisting

features

Filtering through a tide of employee ideas to find the best ones can be challenging. Amongst its toolset, an excellent idea management software will help shortlist the best ideas.

Look for the following features to help you spot the ideas for Flamin' Hot Cheetos, the Post-it Note, and the PlayStation. Just like Frito-Lays, 3M and Sony did.
Crowd review - involve your employees. They have unique insights into your business, so encourage them to vote for their favorite ideas by liking and commenting on them. Great software will incorporate those votes, and use your crowd as the first step in going from many ideas to the few with the greatest potential.
Expert review - leverage your Subject Matter Experts. After harnessing the crowd, you'll need a process with which to judge and select ideas. A great framework to use is the Expert Review, in which experts from across the business review ideas and give their feedback. Importantly, these Subject Matter Experts have both the knowledge and open-mindedness to review ideas. So look for software that can help you to easily create, and send ideas to, an Expert Review. In that expert review, it's important to set criteria for the subject matter experts to score ideas against. So ensure that the software allows you to customize those criteria.
Results - analyze the expert review. Software should make it easy for you to analyze the review scores for each idea. That way, you can spot the ideas that your experts believe have the most potential.
---

4) Idea
implementation

features

Once you've shortlisted the ideas with the greatest potential, the truly exciting part begins: implementing those ideas and changing the world. You'll be thankful for these software features to help you do it.
Projects - create them. Once you've decided to take an idea forward, you'll need to turn it into a project. You may well have a favored project management tool, so look for software that integrates with it. Finally, for project teams to work well together, ensure the software has the functionality to facilitate their collaboration.
Progress - track delivery. You should be able to harness software to track the progress of each project. This will be useful in the later stages of the pipeline, as ideas approach the implementation stage. Particularly useful features include the ability to assign project owners, add updates to the idea, and use date stamps.
---

5) Employee
engagement

features

Over the past 7 years of helping companies harness employee ideas, we've learned that engaging audiences is a massive determinant of success. If employees feel that their company is invested in their ideas, they'll share them.

The easiest way to do that? Engage them! Celebrate milestones, update your employees along the journey, and demonstrate success stories back to them. Your idea management software should have your back. Here's how.
Communications - send them. The most effective method of engaging your employees is great communication. An awesome software will help you to send personalized updates at both the individual- and company level. Whether that's a progress update on an idea or statistics on the initiative for the whole company.
Templates - make it easy. Using templates makes the process of engaging your audience more low-touch. Win-win. You know your audience best, so you need the option of creating your own communications. Equally, a great software vendor will have years of knowledge, so should offer best-practice templates. Look for software that utilizes dynamic fields in its templates, so that each of your recipients receives a tailored message.
Automations - make it even easier. Having customized communications be sent automatically is the dream. The best software lets you live that dream. They enable you to choose whether a communication is sent manually or automatically, based on specific triggers that you define. Be that a 'thank you!' email when an employee submits an idea, a 'congratulations!' message when you progress their idea to the next stage, or a 'next steps' ask to complete the chatbot. Great software won't only offer automation for your common actions, but also for your communications.
---

6) Campaign
analytics

features

To report on your employee ideas initiative, you'll need to measure your success. Whether your metrics of success are based on engagement, financial impact, or non-financial impact, software with the following features will help you to analyze performance.
Ideas - dashboard. To quickly check in on performance, a useful software will have a dashboard. But dashboards are only valuable if the data they show is important to you. So look for software that allows you to quickly tap into the metrics that you care about. In particular, be on the lookout for software that helps you analyze your idea pipeline. It's the element of a dashboard that you're likely to use the most.
Granular - key insights. To deep-dive into the performance of your initiative, seek a software with the ability to drill-down on analytics. Importantly, the better a software can visualize key data, the easier it is to take action and improve your initiative. Some useful insights to look for in software are audience engagement tracking, sentiment analysis of their submissions, and customizable tags to explore ideas within the same category.
Customizable - your way. A software may offer great analytics, but you may have your own BI tool. If that's the case, then you have a type. You type is a software that can connect to your BI tool. That way, you can peel back your initiative's layers of data, and visualize it in your own way.
---
Step 2

| Compare & identify your perfect vendor
Now that you know all about the most important software features, it's time to compare vendors. Given the number of software to choose from, what's the best way to find the one for you?
Which questions can you ask vendors to gain important information? How do you make the right choice?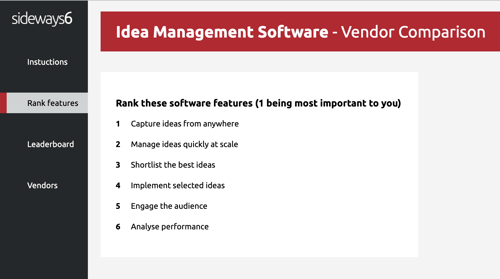 Use our Vendor Comparison Tool! It'll help you identify your most important software features, score vendors on each feature, and then output a ranking of vendors. You'll be empowered to objectively choose the vendor most suited to your needs.
Click here to access our Vendor Comparison Tool
Pro-Tip
Have the Tool open during your conversations with vendors. That way, you can spot if two or more vendors' scores on a certain feature are close, and then ask more clarifying questions to better discern between those vendors.
---
Bootstrapping idea management
Used the decision tree and it's told you to bootstrap? Maybe you're a small company and/or only want to gather a few ideas. Don't worry! Follow this link for a handy template that will help allow you to get your initiative off the ground.
Once it's taken off and you've had a taste of the success that harnessing employee ideas brings, check back in with the decision tree. Maybe it'll be the right time for you to consider an idea management software... Good luck!
---
If you found this article useful, be sure to check out our 'Best Practice Guides' to running employee ideas campaigns on Microsoft Teams, Microsoft Yammer, and Workplace from Facebook!