For any retailer, delivering a great customer experience is arguably the most important factor in ensuring success.
However, it's not just as simple as that.
In order to ensure your consumer's shopping experience is a positive one, you need to be able to harness the insights of those who deal with customers face-to-face every single day - your employees.
93% of shoppers are likely to make repeat purchases from companies that provide remarkable customer service - HubSpot
You also need to ensure that you have an empowered and engaged workforce that will go above and beyond for your customers. If your employees are disengaged and dissatisfied, that attitude will seep through and affect your consumers.
Even in a digital age, the power of face-to-face interaction in retail remains strong.
(Check out this Forbes article - The Future of Retail CX is Human)
According to PwC, 75% of customers report that, as technology becomes more central to our shopping experience, they want more human interaction, not less.
And yet 64% feel companies have lost touch with the human side of their interaction with customers.
For leadership in head office, it's hard to be able to have a finger on the pulse of every single aspect of the business, especially what's going on on the shop floor.
So, let's take a look at some examples of how retailers are improving customer experience in their stores by tapping into insights and ideas from the shop floor...
---
Examples of retailers improving customer experience through employee ideas

1. Marks & Spencer
Marks and Spencer's, one of Britain's most renowned brands, are loved by their customers and employees alike.
They are also famous for delivering a fantastic customer experience with a few small ideas that make a big difference.
The company-wide employee suggestion scheme 'Suggest to Steve' is passionately led by CEO Steve Rowe, as he asks employees for their ideas on a whole host of areas.
One such area is identifying ways that M&S can ensure they are delivering the best possible shopping experience for their customers, which has unearthed some innovative solutions to problems that leadership didn't even know existed.
For example, after hearing that some customers felt rushed when packing their shopping at the till, one M&S employee, Elizabeth, suggested a way for customers to pack items away from the till, through the introduction of a dedicated packing shelf.
This is now being trialed at M&S' new format stores as a possible concept for potential roll-out across all stores.
Another example of an idea that came directly from an employees' face-to-face interaction with a customer is M&S's baby hamper.
After a customer asked Teresa whether they sold one (and realized that they didn't!) Teresa suggested launching a baby hamper for newborns.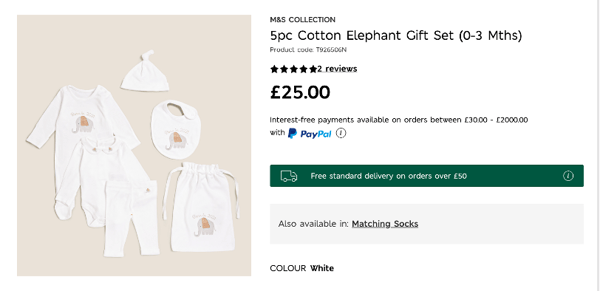 The gift bag is a 5-piece Cotton Elephant Gift Set and since its launch, it has sold over 500 units, with sales of over £10,000.
Success has meant 3 further new gift boxes will be launching in Winter 2021.
Now, it wouldn't quite be right to talk about M&S products that delight its employees without a mention of the famous M&S mascot, Percy Pig.
So, dog and Percy Pig enthusiast Josh thought M&S should combine the two to create a Percy-inspired toy for his dog. The Percy Pig Plush Rope Pet Toy recently launched online for £6.
(We even have one in the Sideways 6 office for our resident pups!)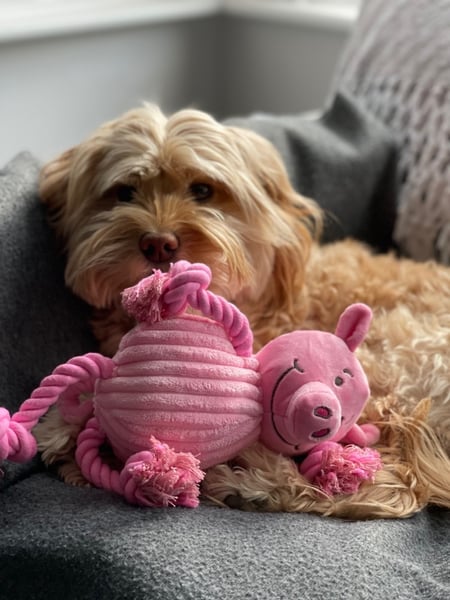 There are various other examples of how employee ideas at M&S are encouraging their staff to use their day-to-day interactions to come up with new solutions that can help customers have a fantastic experience.
Have a quick look at this video to see more about their employee suggestion scheme, 'Suggest to Steve'...
---

2. Sainsbury's
An example of how sometimes providing a great customer experience requires employees, customers, and even competitors all coming together.
In 2020, due to the ongoing uncertainty around the full impact of Coronavirus, supermarkets had been much busier than usual. Sainsbury's sought to address the situation by listening directly to its workforce and customers.
I have listened to the feedback from the public and from Sainsbury's colleagues
across the country on how to make
sure everyone has access to the
items that they need.
----- Mike Coupe -----
The feedback and ideas received have led to the introduction of special measures including a dedicated shopping hour and priority delivery slots for elderly and vulnerable customers – helping to ensure these groups don't have to face the supermarket struggle.
Before long, the idea began to spread and other supermarkets began to follow suit.
80% of retail customers would endorse a supermarket's move to go plastic-free, whilst 91% would be likely to encourage friends and family to shop there as a result of the pledge. - Edie
---

3. McDonald's
A great way to provide a great customer experience is to release brilliant, staple products that are loved by your customers.
Name a more iconic meal in a box than the Happy Meal. We'll wait...
Did you know, however, that this icon actually started as a simple gimmick? In 1977, the St Louis regional manager, Dick Brams, wanted to trial a new meal that was just for kids. He pitched his box-based idea to management, and they were lovin' it!
Two years later, McDonald's rolled out its first Happy Meal. It was circus-themed and very similar to the one we see today.
For customers, the practicality of having a simple, quick meal option for kids proved a great success (with the added bonus of a toy to keep them happy!)
In the time you've been reading this story, approximately 2,937 have been sold. 3 million Happy Meals are sold every day.
---

4. Amazon
Now we know that Amazon is more e-commerce than retail, but even so, they're similar enough and these ideas were too good to miss...
Everyone knows Amazon is one of the biggest and most successful companies in the world.
But, what a lot of people don't know is that some of Amazon's most iconic innovations that make the customer experience so quick and efficient actually came about as a result of employee ideas.
For example, Amazon Prime actually exists thanks to an employee idea.
Amazon had an offer of 'Super-Saver Shipping' for customers, but this just wasn't having the desired effect and Amazon saw themselves falling behind their internet rivals eBay.
A team of Amazon employees, led by former Amazon VP Greg Greeley, formulated the 'Prime' idea, believing that customers would pay more to be part of an 'exclusive' membership that gave them two-day delivery.
The offering allows customers to shop from the comfort of home, without the pain of having to wait for their product to arrive.
Prime now generates over $19 billion per year on subscriptions alone and 1 in 3 Americans has a Prime membership. Not bad for a simple idea!
However, Prime isn't the only iconic feature of Amazon's buying experience that happened as a result of an employee idea...
If you're one of the more than 250 million people that visit Amazon's website every day, then you'll have noticed the enticing 'buy with 1-click' button.
Amazon programmer Peri Hartman wanted to find a way to 'make the ordering system completely frictionless', and so he built the software to enable 1-click purchases. It worked and was patented by Amazon in 1997.
When we write the history of e-commerce, the 1-Click patent allowed Amazon to
create a very strong position
in the market.
----- R Polk Wagner-----
Not only did this innovation provide Amazon with a huge competitive advantage, but it also provided a new revenue stream as it licensed the technology to other companies (including Apple!).
How many times have you impulsively bought a new album on iTunes or a new book for your Kindle without even a second thought? Instant purchase drives orders.
By the time the patent expired in 2017, Amazon's turnover was $177bn. Not a bad head start...
---

5. IKEA
IKEA are famous for providing a great customer experience with novel offerings such as their free Swedish Meatballs, contributing to creating the idea of a trip to IKEA becoming more of a 'day out' than a simple shopping trip for most people.
To continue to develop and improve this reputation, IKEA have introduced 'Co-Create IKEA', a digital platform that encourages employees to work together with colleagues to develop new and innovative ideas.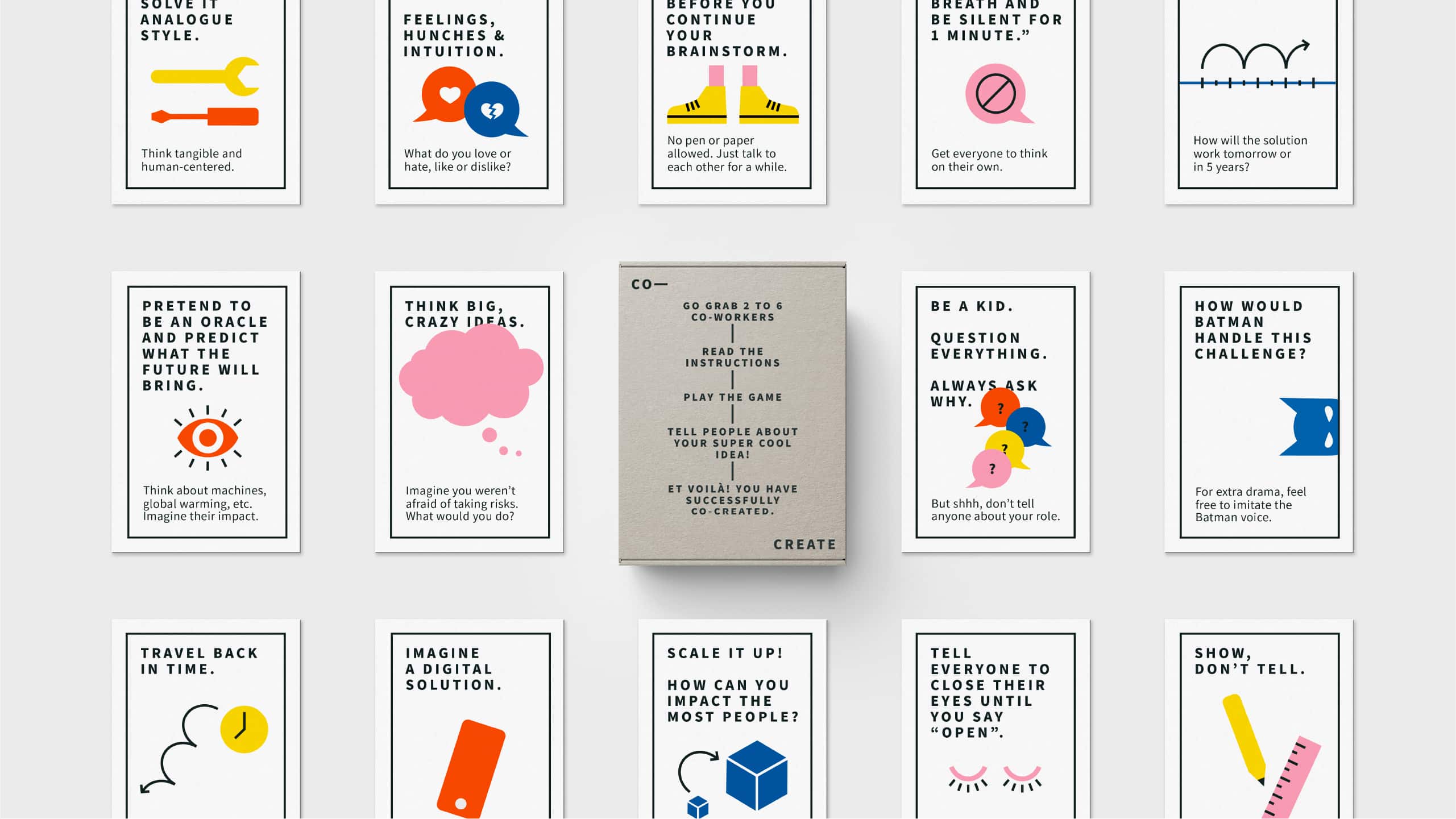 Co-Create IKEA also invites anyone else (e.g. customers, students, entrepreneurs) to submit their ideas towards the project, involving everyone in the crowdsourcing initiative.
This notion of involving the customer in innovation really helps to engage customers by allowing them to have a personal involvement in developing new ideas.
IKEA's crowdsourcing initiative stands out as it doesn't just empower employees to share their own ideas, but it encourages colleagues to come together to collaborate and co-create around their innovative ideas.
The initiative is beautifully inspired by IKEA founder Ingvar Kamprad's words: "Most things remain to be done."
---
Just the tip of the iceberg...
With the structure of retailers, employees on the shop floor are the eyes and ears of the business when it comes to knowing what the customers want.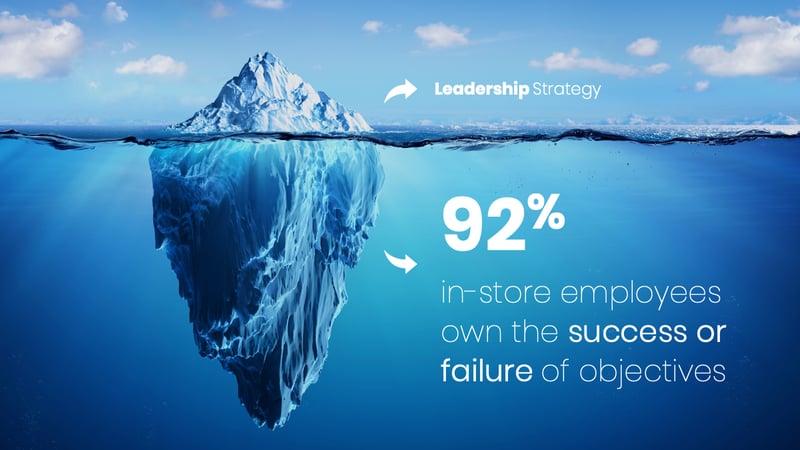 But on average, 92% of retail employees work in-store. That means the people making all the decisions make up only 8% of the business.
And it's this 92% that interact with your customers every single day, so naturally, they are the ones best placed to see exactly what it is that customers want and what makes them happy.
Only by capturing the insights and ideas from that 92% are you able to have your fingers on the pulse of what customers want and need when shopping in-store.