Every company strives for smooth processes in its operations.
But, it's impossible for leadership to have their fingers on the pulse of every detail of every stage of every process...
Inevitably, problems arise in these processes. More often than not, small problems go undetected by leadership, giving rise to issues that may be having a much larger impact on the business later down the line.
So, how do you avoid this?
It's simple. Empower your workforce to speak up.
Each employee has a unique insight and perspective on the work they do day-to-day and may be aware of issues that leadership would have no way of knowing about.
These issues are causing a waste of time and money.
But, by putting a process in place for employees to speak up and share their ideas, you are giving yourself and others an opportunity to spot and solve these issues that could be draining resources.
It's not just about identifying and solving problems. There are also ways to improve what you are already doing. But if there's no obvious problem, it can be hard to see how this could be improved unless it's something you are doing every day.
If someone had a solution that could save you time and money, wouldn't you want to know what it was?
So, let's take a look at how 3 retailers and one construction company (it was too good of an example to leave out!) have implemented a process through which these solutions can be brought to light and subsequently brought to life...
4/5 employees have ideas to improve the business

1/3 employees feel their ideas are ignored

More than 1/2 employees say their company fails to act on good ideas
---
Examples of retailers improving processes with employee ideas

1. Marks & Spencer
First off, we have one of Britain's most renowned and beloved brands, Marks & Spencer's (affectionately known as M&S).
M&S recently launched an employee suggestion scheme wherein M&S employees are encouraged to speak up and share their ideas on a whole range of topics.
Through this scheme, employees can share ideas from anywhere, at any time, on Microsoft Teams.
One such idea was to introduce an extra packing shelf for customers after one M&S employee noticed that customers often took a while to pack their shopping after they had paid, thus holding up other customers waiting to pay.
Have a quick look at this video to see more about their employee suggestion scheme...
The extra packing shelf gives customers the option to finish their packing away from the till so they don't have to worry about rushing.
Meanwhile, this idea allowed more transactions to happen per hour, thus creating a more efficient payment process.
---

2. British supermarket
One of Britain's most-loved supermarkets is driving continuous improvement and increasing profitability by tapping into the ideas of their employees.
The supermarket recognizes the value of process and asks their employees to share ideas, big and small, around how they can solve problems and improve processes in their operations.
The company's innovation initiative focuses on positive processes and measurable outcomes.
For example, one simple idea was to ask customers whether they wanted receipts or not after their purchase. It turns out, there are a lot of people who don't. This one idea saved £460,000 in till roll paper which subsequently impacts their sustainability focus.
Another idea was a simple software update that enabled the organization to re-jig how they refund customers their car parking charges. This update alone helped save a total of £300,000!
The total value of money saved through employee ideas so far is estimated at £2.5 million. Not bad!
Whilst 82% of employees feel they have ideas to make their company better, 18% report feeling too afraid to put them forward.
---

3. Nestlé
Nestlé's employee ideas program - InGenius Intrapreneurs - is celebrated worldwide as one of the best examples of a successful employee ideas program around.
They have ideas ranging from new product ideas like the famous green Kit-Kat to sustainability ideas such as the Purina pet food dispensers.
Take a look at this video introducing InGenius Intrapreneurs...
Inevitably, employees across Nestlé are able to spot how they could fix and improve current processes to ensure the company saves time and money.
One such example was the onboarding and safety training for new Nestlé sales employees in the Purina department.
Most of these employees had never seen how the pet food was actually made but also had to promote the quality and innovation of the product. But, the cost of travel and lost productivity was too high to justify these employees making the trip.
One employee suggested the introduction of a VR headset that enables employees to engage in interactive learning sessions that are safer, less distracting, and more cost-effective than in-person tours.
No matter who you are or what you do,
if you are passionate about solving a
problem or creating an opportunity,
you can submit an idea to InGenius.
----- Nick De Blasio, Employee Innovation @ Nestlé-----
Also, the salespeople are able to build trust with prospective customers based on their first-hand experience.
The idea resulted in over $100,000 saved per year in travel and lost productivity costs by training 10 salespeople via VR headset per month.
---

4. Balfour Beatty
Okay, so Balfour Beatty isn't exactly retail. But, with high volumes of frontline workers, there are similar issues faced in capturing employee ideas as you find in retail.
The UK construction company introduced their employee suggestion scheme, 'My Contribution' as a way of creating a culture of continuous improvement across the company whilst capturing insight to those problems and solutions that leadership had no way of seeing.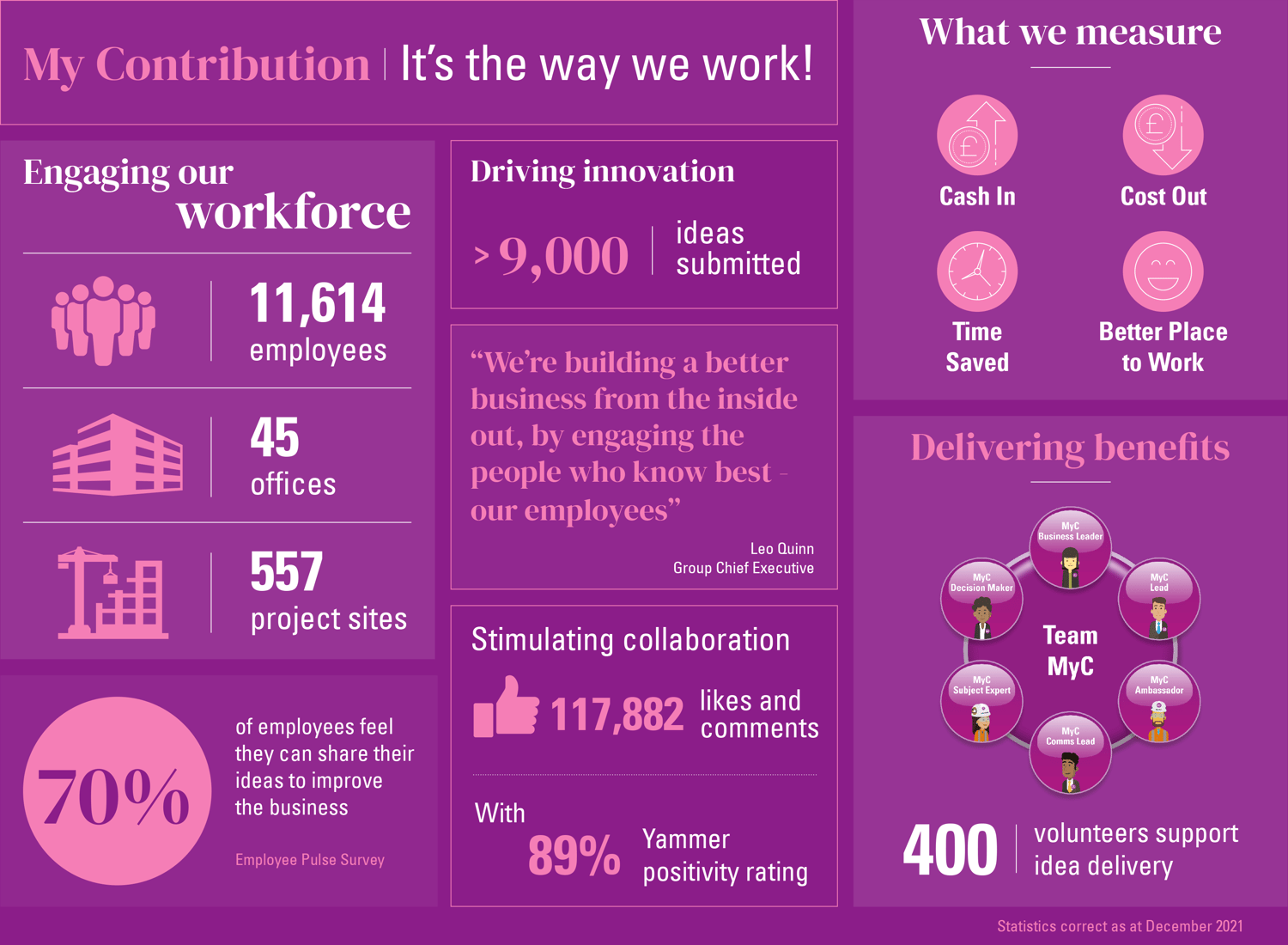 In just 2 years, the construction company uncovered £22 million in cost-saving through employee ideas whilst also managing to save 54,000 hours of work!
Employees share ideas like limiting the speed limit of their light commercial vehicles from 70mph to 68mph, which helps to reduce fuel costs, increases safety for drivers, and positively impacts the environment.
Together we are building a stronger business from the inside out. So, when it comes to identifying ways of improving our business, who better to ask than all our people?
----- Leo Quinn, CEO @ Balfour Beatty -----
On top of this, My Contribution has empowered Balfour Beatty employees by giving them a voice and engaging them in the company strategy, resulting in a 15% rise in the employee NPS score with a 3.2% reduction in staff turnover.
My Contribution continues to run with employees at all levels of the business sharing ideas every day to help the contruction company identify new ways to save time and money.
---
In conclusion...
There are always going to be things you can do to improve your processes and operations.
The problem is, they won't always be easy to spot.
In order to maximize visibility across the company, businesses need to empower their employees to be able to speak up to identify solutions that can help drive your company forward.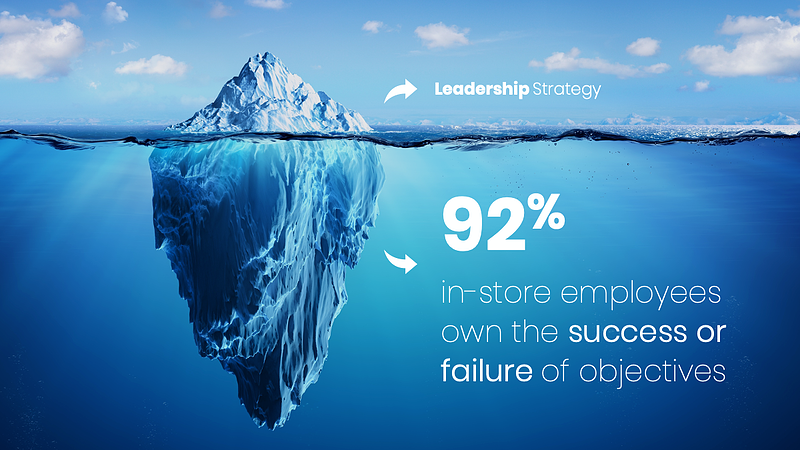 It's impossible for leadership to see everything that happens in the business, therefore it's essential to enable and empower employee ideas to come to light to help identify solutions and improvements to your company's processes.
In the retail industry, the company's that are taking on the future together with their employees are the ones that are thriving. The others will get left behind...