Microsoft Teams is quickly becoming the global hub for collaboration and communication between employees. But how can companies turn this collaboration into innovation that delivers real business impact?
One way is through encouraging employees to share their ideas or solutions to business challenges directly in Teams. If you're still deciding whether this is the right approach for your organization to take, then we'd recommend you read our Ultimate Guide to Idea Management on Microsoft Teams first.
Collecting ideas in Teams means that, for employees, sharing an idea is as simple as navigating to an app pinned to the left rail, just as they would to chat, join a meeting or access their files.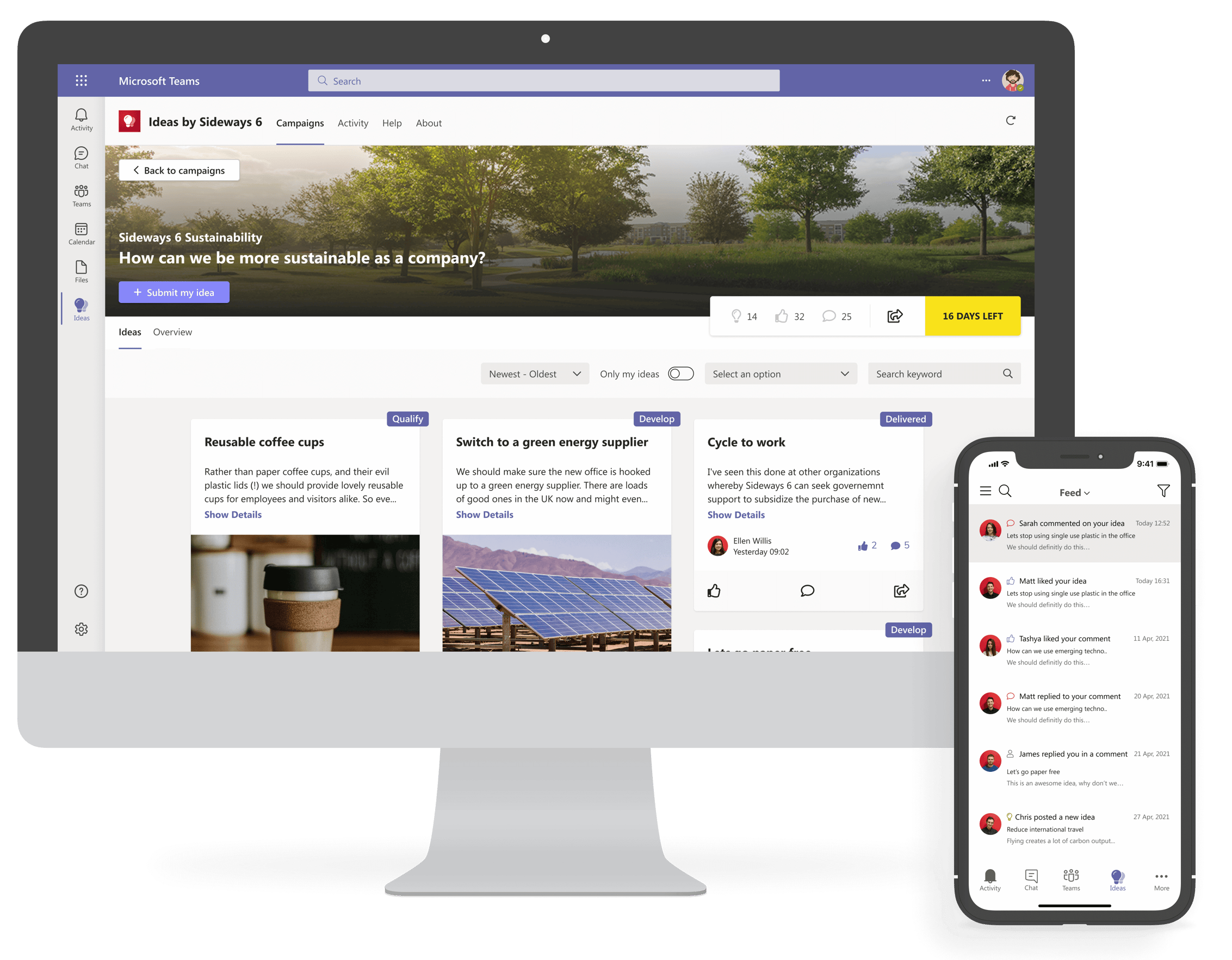 There's no need to navigate away from Teams, therefore removing the 'lack of engagement' barrier often experienced by standalone innovation platforms.
You're simply capturing ideas in the spaces where they happen naturally.
In fact, it's so easy that even a dog could do it. Watch the video below to see how Bertie the office dog shared his idea on Microsoft Teams...
---
At Sideways 6 we've helped some of the world's best and biggest companies listen to over half a million employee ideas. We've learned a lot along the way and this guide aims to pass on some of those learnings and best practices to you.
It's structured around the s6 model, which is our six-part framework for helping companies capture, manage and implement employee ideas at scale.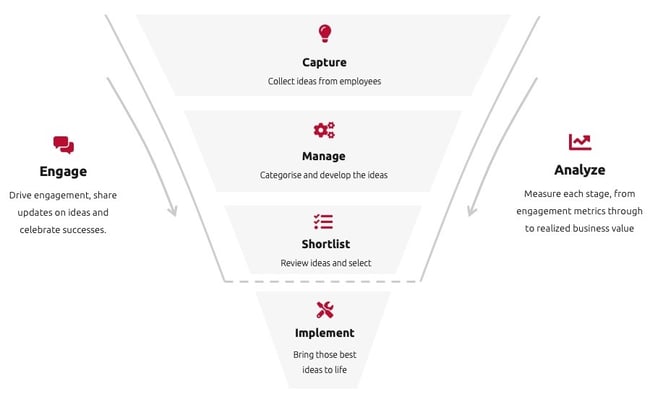 In this article, we'll walk you through a step-by-step guide to running a great employee ideas campaign on Microsoft Teams.
To give it context, we'll show you the eight steps we took here at Sideways 6 in asking our employees for their ideas on how we could make the business more sustainable and reduce our negative impact on the environment.
---
Step 1 | Plan your campaign
To run the best employee ideas campaign with Teams and Sideways 6 it's important to start with why. Understanding the objective of the campaign and what question or challenge you want solved is critical before you start.
All organizations start with why, but only the great ones keep their why clear year after year.
----- Simon Sinek -----
To kick off the process you can set up a group chat with key stakeholders to discuss the project and nail down the details such as:
Timeframe - How long are you going to run the campaign for?
Budget - What resources can you put to implementing ideas?
Roles and responsibilities - Who is going to own key parts of the process such as communications, idea management and review?
Success criteria - And most importantly of all, what does success looks like to your business?
All of this can be discussed using Teams itself of course. In our instance we setup a private channel just for the people responsible for managing the campaign: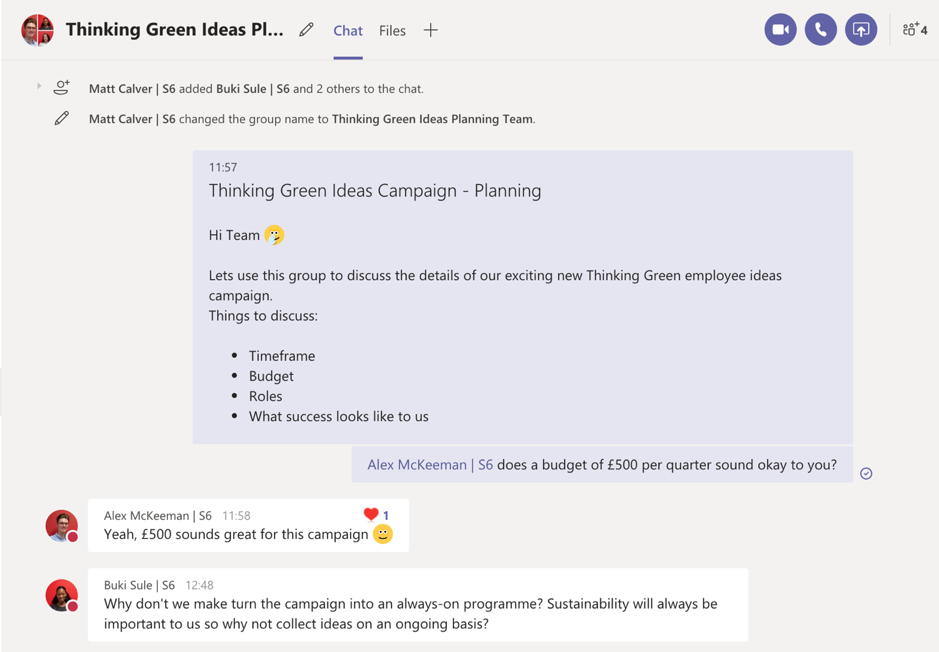 ---
Step 2 | Capture ideas from Teams
Capturing ideas from Teams is really easy with Sideways 6 and will happen automatically. All you need to do is install the Ideas by Sideways 6 application and launch your campaign in Teams.
We suggest branding up your campaign with an eye-catching image and picking a campaign name that is catchy and inspiring. For our internal sustainability-themed campaign, we decided to go with 'Thinking Green' and to pose the question "How can we make Sideways 6 more sustainable?".
Don't forget to fill out all of the campaign background when configuring the campaign. You want your idea submitters to be able to understand quickly what the campaign is about as well as any other details like review criteria, people involved and why the business is running the campaign.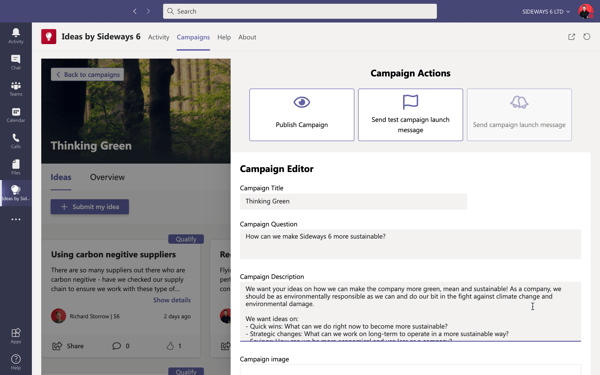 Remember that your campaign will be saved as a draft until you publish it. Idea submitters can only see campaigns that are active, upcoming, and ended. Once you have configured your campaign don't forget the save the details so it's ready to publish once you are ready.
Sideways 6 can collect from different campaigns run in Teams. Make sure to set up separate campaigns with distinctive branding and questions to help idea submitters easily navigate to the right campaign for their idea.
---
Step 3 | Launch your campaign
Once you have the campaign configured you can move forward to launching your campaign!
To launch your campaign out to your audience you can use the campaign launch comms functionality, this will send a direct message to everyone with the app installed that the campaign is launching. Send you launch comms and hit publish to start collecting ideas!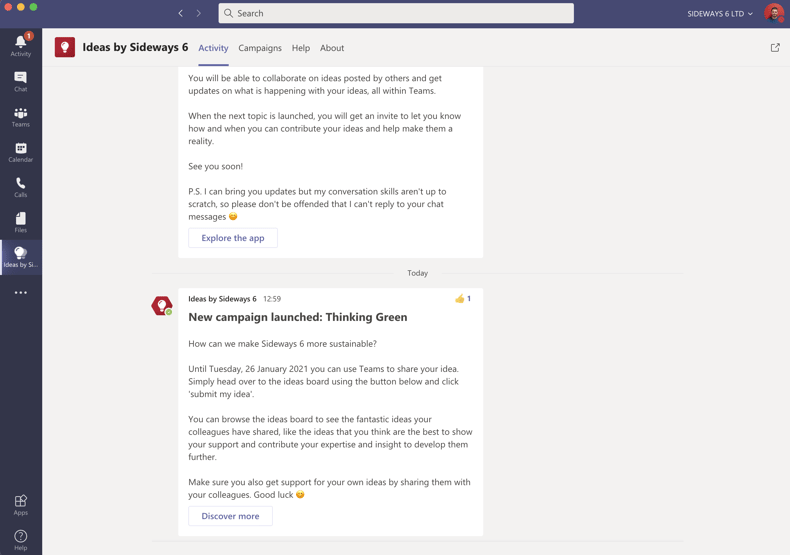 Don't forget to get the word out elsewhere in the business by using the campaign share button, you can;
Share the campaign link in Teams channels
Share the campaign link in private chats
Share the campaign link on company intranets and portals
Don't forget to make use of other channels and media to boost engagement, for example, email newsletters, videos, launch events, and executive announcements. Check out our handy list of 8 ways to promote your campaign for inspiration.
---
Step 4 | Manage ideas at scale
When managing ideas in Sideways 6, we recommend using our best practice idea management stages and statuses to manage your ideas most effectively.
Stages represent the sequence of steps in your idea management process, from capturing ideas to bringing the best ones to life.
The best way to think of this is like a funnel, with ideas only passing through to the next stage if they meet your set criteria:
Qualify -

Determine whether submissions are real ideas within the scope of the campaign
Develop -

Enrich ideas with additional information necessary to evaluate them
Evaluate

- Assess ideas against pre-determined criteria to pick the ones to be implemented
Implement

- Put selected ideas into practice and track delivery progress
Delivered

– The final phase, used to mark ideas as complete and capture the realized benefits of successfully implemented ideas
The same is true for the idea statuses which are labels that tell you what is happening to individual ideas as they move through your pipeline.
By default, Sideways 6 includes the following statuses:
New (Default) - An idea that has been newly submitted into the ideation campaign
Active – An idea that has been qualified and accepted into the ideation campaign
Waiting – An idea that is waiting on some other person to complete an action before it can progress, e.g. waiting for review or waiting for more engagement from campaign participants
Completed – An idea that has successfully been delivered and its benefits realized at the end of the workflow
Deferred – An idea that has successfully passed review but cannot be implemented right now (e.g. due to capacity or financial limitations and may be picked up in 6 months from now)
Rejected - An idea that is not being taken forward. There are multiple rejection reasons available by default such as 'Out of scope', 'Solution exists already', 'Not enough value', and 'No demand'.
Getting your stages and statuses set up early will help you manage ideas effectively as they come in from Teams. Idea stages are visible on ideas cards within the app so idea submitters can keep track of the journey of their idea.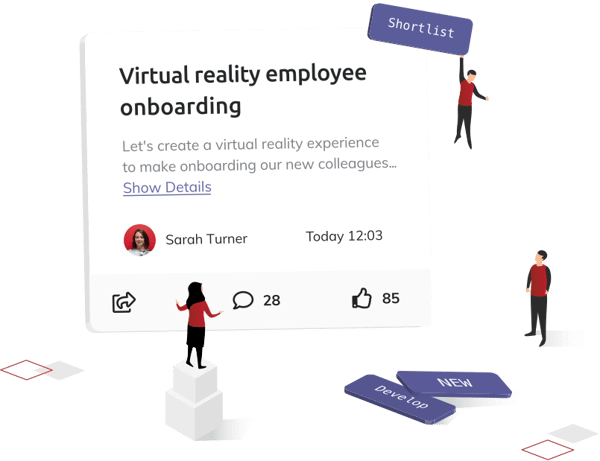 You can also use the chatbot functionality within Sideways 6 to help employees develop their ideas further in a friendly, conversational way. This helps ensure that you capture all the information you need to be able to evaluate the ideas effectively.
---
Step 5 | Find the best ideas
Shortlisting ideas with Sideways 6 is a simple process. Just select the ideas you want to send to Review, define your review criteria, and choose your expert panel of reviewers.
Reviewers will receive an email notification inviting them to review the ideas. You have the option to customize the email invite with your company logo, theme color, and copy so go wild and make it as engaging as you possibly can.
Alternatively, you can use the power of the crowd to shortlist top ideas by the number of likes or comments they have in Teams. Depending on the scale of your campaign, this can be a neat and efficient way of prioritizing the best ideas.
---
Step 6 | Bring ideas to life
By this stage you've decided on the handful of ideas you'd like to implement, hooray!
When implementing ideas, it's a good idea to think back to your original budget and plan. Perhaps you have an explicit limit on the number of ideas you can implement. If so, consider whether you need to whittle the ideas down further.
Adults are always asking little kids what they want to be when they grow up because they're looking for ideas.
----- Paula Poundstone -----
A helpful way of doing this is to categorize ideas on an effort vs reward matrix, this will enable you to identify potential 'quick wins' and 'bigger bets'.
Which ideas are low-hanging fruit that you could implement relatively quickly?
Which ideas have significant potential but require a longer-term commitment to bring them to life?
The mix of ideas you decide to implement will depend on your business objectives and the level of resources at your disposal.
And where better to kickstart the implementation process than directly in Teams where you can connect the people with the relevant knowledge and experience to bring projects to life.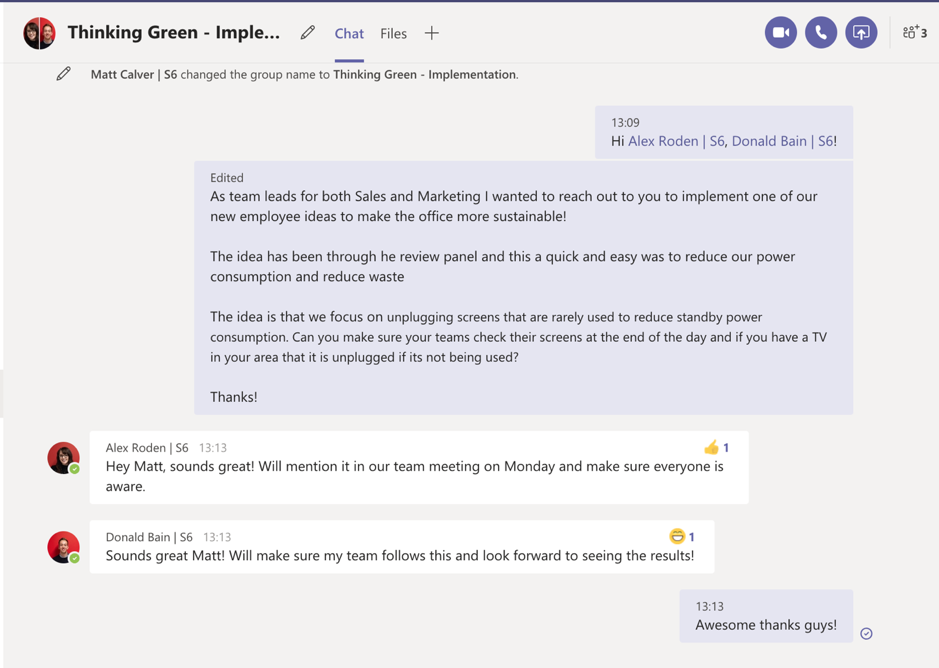 Simply set up a chat group or Team with the project team, idea submitter, and anyone else that needs to be involved to make the idea a reality! Remember you can share the idea in a link as well should you want to reference it in a conversation.
---
Step 7 | Keep idea submitters engaged
Engaging with idea submitters throughout the entire campaign is paramount to success. There's no greater killer of creativity than having submitters feel like their ideas are just going into a black hole.
The only thing worse than not being asked to share your ideas, is sharing an idea and hearing nothing back about it.
----- Will Read -----
In Sideways 6 you can set up automated communications to update idea submitters at every stage of the journey. For example, upon submission, you can send a message thanking the submitter for getting involved in the campaign.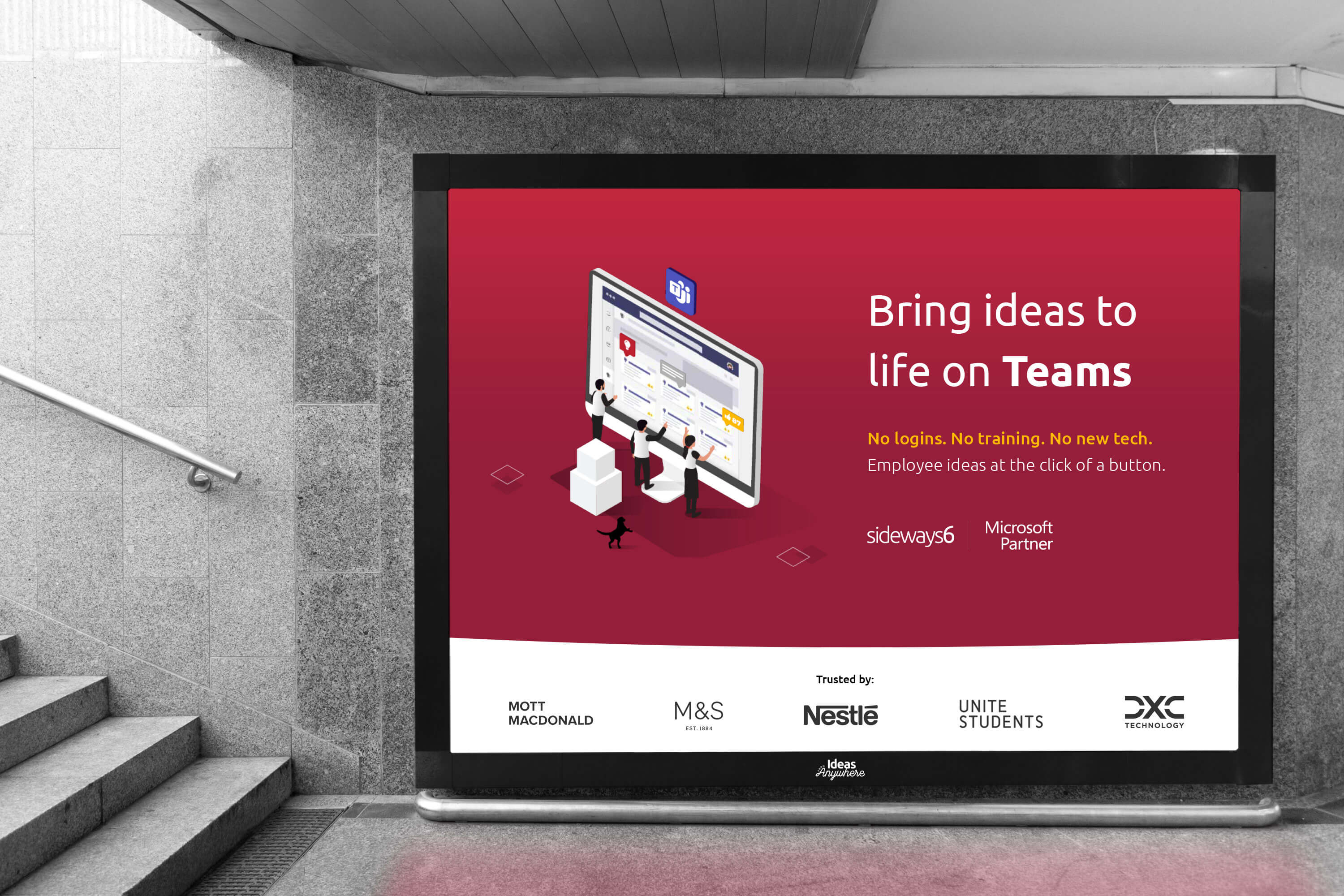 You can then send subsequent messages congratulating them when their idea reaches certain milestones such as a given number of likes or comments, or of course is put forward to the next stage in your selection funnel:
All of this acts to close the feedback loop and keep employees engaged in the campaign.
---
Step 8 | Analyse your campaign
Sideways 6 has some powerful analytics functionality and it's up to you how you best use this. Think about what is meaningful for you and your business to measure and what kind of KPIs you want to track.
You can track things like top contributors, top ideas, who your influencers are, what the most talked about topics are in your campaign.
It's also important to consider how you recognize contributors and communicate the success of the winning ideas to the wider business.
Think about the ROI they stand to generate and what tool you can use to communicate this impact be it a company announcement, newsletter, magazine etc.
---
In summary
So, there you have it! Teams is an excellent platform for not only listening to your employees' ideas but also implementing them. With the power of Teams and Sideways 6 you can quickly set up campaigns around specific business goals and collect ideas where they are already happening.
Setting up a Teams campaign couldn't be easier and with native functionality like chat, video calling, and file sharing, you can bring a campaign from concept to launch in no time.
If you'd like to find out more, then click here to request a free demo and we'd be happy to show you around 'Ideas by Sideways 6' - the idea management app for Microsoft Teams.