---
When the world was thrust into lockdown, we were all left wondering - How will the world continue to work?
Luckily, in the midst of a global lockdown, Microsoft Teams provided not only the means to survive but a chance to thrive as we made the shift into a new age of working with new opportunities to collaborate and innovate on a global scale like never before.
---
The desire to innovate and stay ahead of the competition is now a priority for pretty much every company out there, but the businesses that are really thriving have realized that the key to innovation lies in the hands of their employees.
The reality is, nobody knows a company better than its employees. Don't just take our word for it, have a look at what our friend Richard Branson has to say on the matter: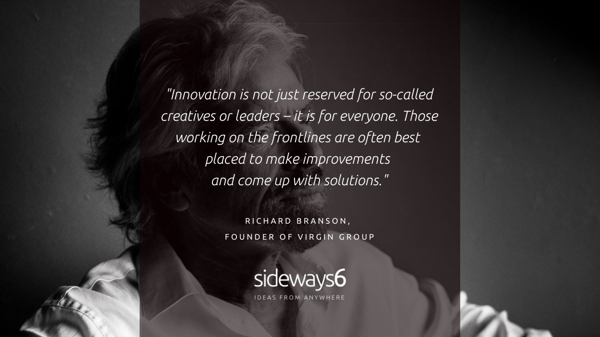 In fact, Branson has a point. We received responses from over 1,000 employees around the world, working in industries ranging from banking and construction to retail and healthcare, and there were some striking findings.
4/5 employees have ideas to improve the business
1/3 employees feel their ideas are ignored
More than 1/2 employees say their company fails to act on good ideas
When done well, employee idea campaigns, backed up by effective idea management, can be extremely effective in helping companies to grow and stay ahead of the competition.
---
The current landscape
Enter, Microsoft Teams.
There are currently nearly 300 million (and growing!) monthly users on Microsoft Teams, making it the most populated online collaboration tool in the world.
From meetings to morning stand-ups to sharing a gif, Teams has solidified itself as a core component of our daily working life. Since the beginning of 2020, Teams has seen exponential growth as it has supported companies across the world, take a look at the chart below:
With so many employees using Teams for their day-to-day work, the platform presents itself as a perfect space for company-wide idea-generation, enabling leadership to meet employees on the tool they already use, to listen to their ideas.
And we all know what can happen when leaders are able to tap into the creativity and innovative thinking of their workforce...
Just look at Frito-Lay. After some unsuccessful product launches resulting in a dip in sales, CEO Roger Enrico called for his 300,000 employees to "act like an owner". A janitor named Richard Montañez, empowered by the words of Enrico, decided to call up the CEO with an idea for a new product.
The idea was eventually launched as Flamin' Hot Cheetos and became a multi-billion-dollar product. The janitor's idea instigated a new range of Cheetos flavours, with over 20 flavours now on offer, each worth over $200 million!
(To hear the Flamin' Hot Cheetos story in full, check out The Ideas Show Podcast!)
---
The Problem
But, bringing ideas to life is hard.
I'm sure we'd all like to uncover the next Prime or Flamin' Hot Cheetos idea but, in reality, it's really not that simple. Companies face multiple obstacles when trying to source ideas and then bring them to life, from engagement to implementation, it's not as easy as we'd like it to be.
68% of companies have no process for idea management
56% of companies fail to implement winning ideas
80% of collaboration efforts fail due to lack of adoption
Many companies fail to have the right systems in place, or they struggle with building and maintaining an internal culture of idea-sharing, and these companies often pay the price.
Take WebEx (later acquired by Cisco). One of their employees, a Corporate VP of Engineering by the name of Eric Yuan, had an idea for a video communication tool that could provide an efficient way of supporting remote collaboration and remote meetings.
After struggling to get his idea heard, Yuan left his 6-figure executive job to develop his idea independently, taking 40 WebEx engineers with him.
Yuan went on to found Zoom, which has since flourished into a company worth $117 billion (at the time of writing).
As you may well be aware, it is hard to generate and implement employee ideas, yes. But, as Covid-19 plunged businesses into remote working, we were forced to seek out new means of enabling online collaboration, which has presented an unlikely solution to employee-led innovation…
---
The New Approach
Alongside the global adoption of collaboration tools, we have witnessed the rise of a new approach to idea management: integrated idea management
Integrated idea management software capitalizes on the pre-established network of tools like Microsoft Teams for employee idea campaigns, solving the problem of having to drive engagement in new, unfamiliar tools or apps.
Integrated idea management
Integrated idea management is an approach of listening to ideas by using pre-existing tools and software, rather than a dedicated ideas application. All the ideas collected are then fed into a single platform where they can be filtered, reviewed and managed accordingly.
Employees simply submit their ideas directly into tools they already use every day, like Microsoft Teams, and the integrated idea management software enables you to effectively and efficiently manage these ideas at scale.
Employees are able to collaborate remotely within Teams, from anywhere at any time, around exciting ideas and innovations. Although, even on Teams, it's not always as easy to find and share ideas as we may like.
---
Should you move your ideas program to Microsoft Teams?
Whether you're new to employee ideas programs, or already running various campaigns, Microsoft Teams can be a great place to host your program.
For a more comprehensive look at the benefits, check out our 9 key reasons to move your ideas program to Microsoft Teams.
---
We recommend an app (but not just any app)...
Of course, you can't just encourage idea-sharing without structure; that would result in random, disparate posts of ideas clogging up our channels (let's be honest, none of us want that!)
To add structure and efficiency to the ideation and innovation management process, we recommend using an app. However, not just any old app…
As mentioned, employees often feel loathed to download 'yet another app' at work, and it can be hard to push employees towards a new platform.
The average employee has to switch between 35 work-based applications over 1,100 times a day! Source -Pegasystems Inc.
Luckily, there's a solution that enables you to use an app within Teams. Users have access to an online app store that enables them to download and use apps without ever having to leave Teams.
You don't need more tools.
You need your tools to do more.
----- Chris Sheen, CMO at Sideways 6 -----
Teams apps provide a dedicated space for employees to share their ideas. Clearly accessible and easy to use, Teams apps remove the obstacles to engagement, providing a virtual 'collaboration' space wherein employees from anywhere in the world can come together to share and collaborate around their ideas.
In fact, it's so easy to use, even a dog could do it...
Whether your a large company looking to run enterprise-wide idea campaigns or a small team looking to collaborate around ideas with just a handful of employees, Microsoft Teams has you covered.
---
The best ideas apps for Teams
Okay, you're still reading this, which suggests that you're interested in the concept of an app for idea management. So, what now?
There's more than one option if you're looking to run your ideas & innovation initiatives on an app, and it can be difficult to know which one is right for you...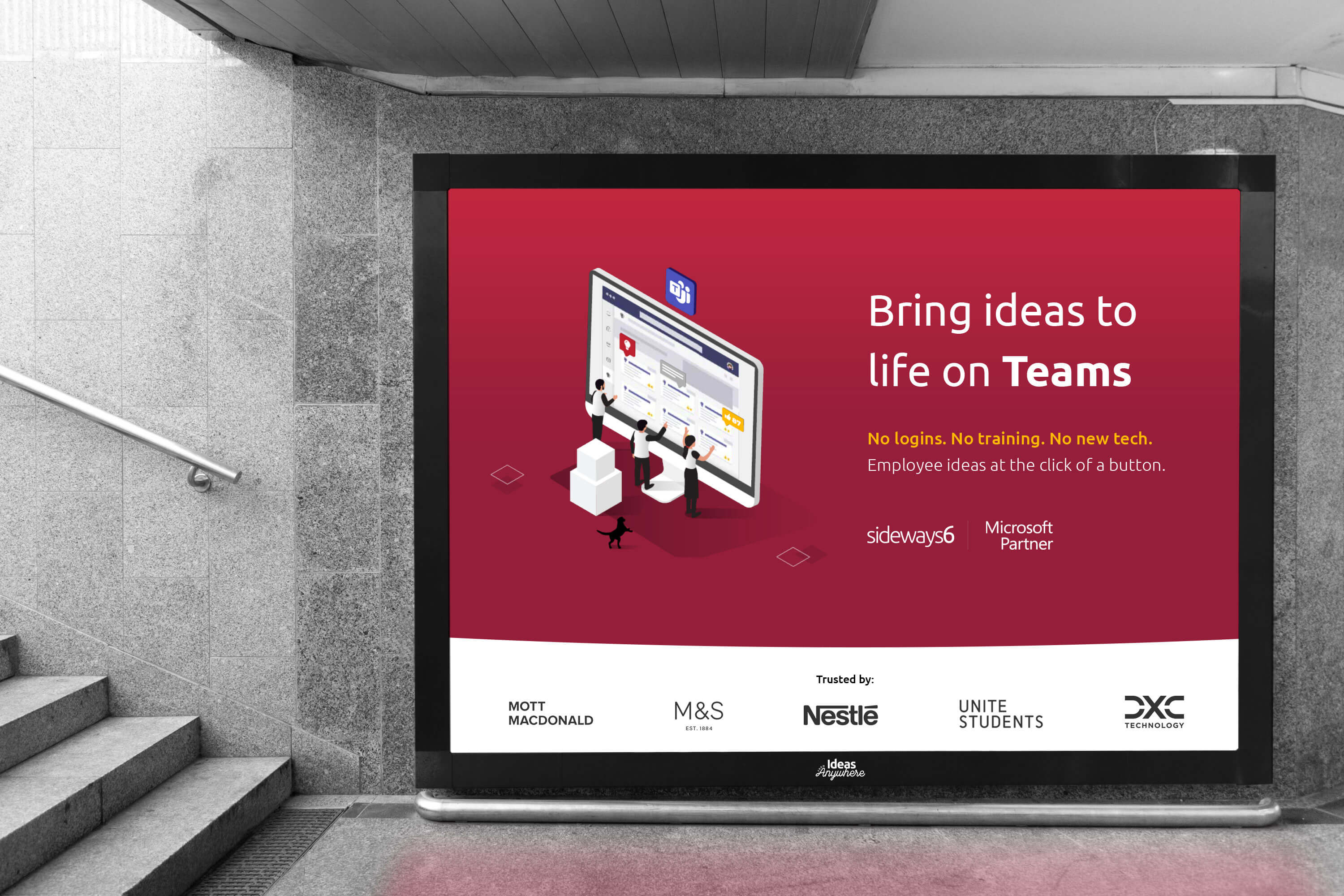 The two most popular ideas apps for Teams are Ideas by Sideways 6 and Microsoft's Employee Ideas App. Both apps are effective, but they have been designed to support different types of idea management and campaigns. Let's look at the differences.
Ideas by Sideways 6
Ideas by Sideways 6 has been created, in partnership with Microsoft, specifically for enterprise-wide idea campaigns, with a focus on functionality that fully supports idea management at scale.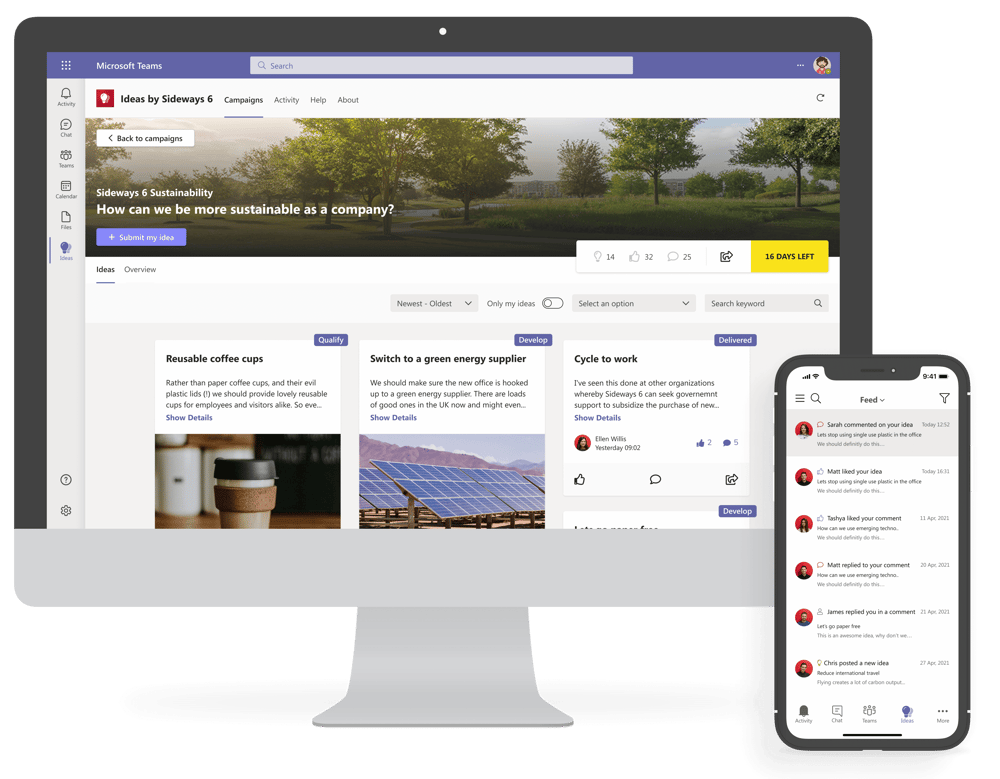 The app enables you to support enterprise-wide initiatives, with the ability to vote and comment on ideas, launch and brand up campaigns, and send automated communications from Sideways 6 to idea submitters on Teams.
Microsoft Employee Ideas
Microsoft's Employee Ideas App has been designed to support ideation within smaller teams. With capabilities like the ability to pin the app to a team or channel, the app provides a dedicated space for a handful of employees to come together and collaborate around a small, focused number of ideas.
If you are working as part of a smaller team and you are looking for an app to collect a small number of ideas, then the Teams Employee Ideas App is perfect for you.
But if you're looking to run enterprise-wide innovation initiatives or idea campaigns that that would require you to sort through and manage a high volume of ideas, then we recommend Ideas by Sideways 6.
We've drawn up a little comparison chart to help you assess which app is best suited to your needs.
---
Nice... But, how do I run an effective ideas campaign?
Okay, so you've found which app is good for you. Now what?
We get it, it's not always easy to run an ideas campaign from scratch, but luckily, we do have over 7 years of experience in this field…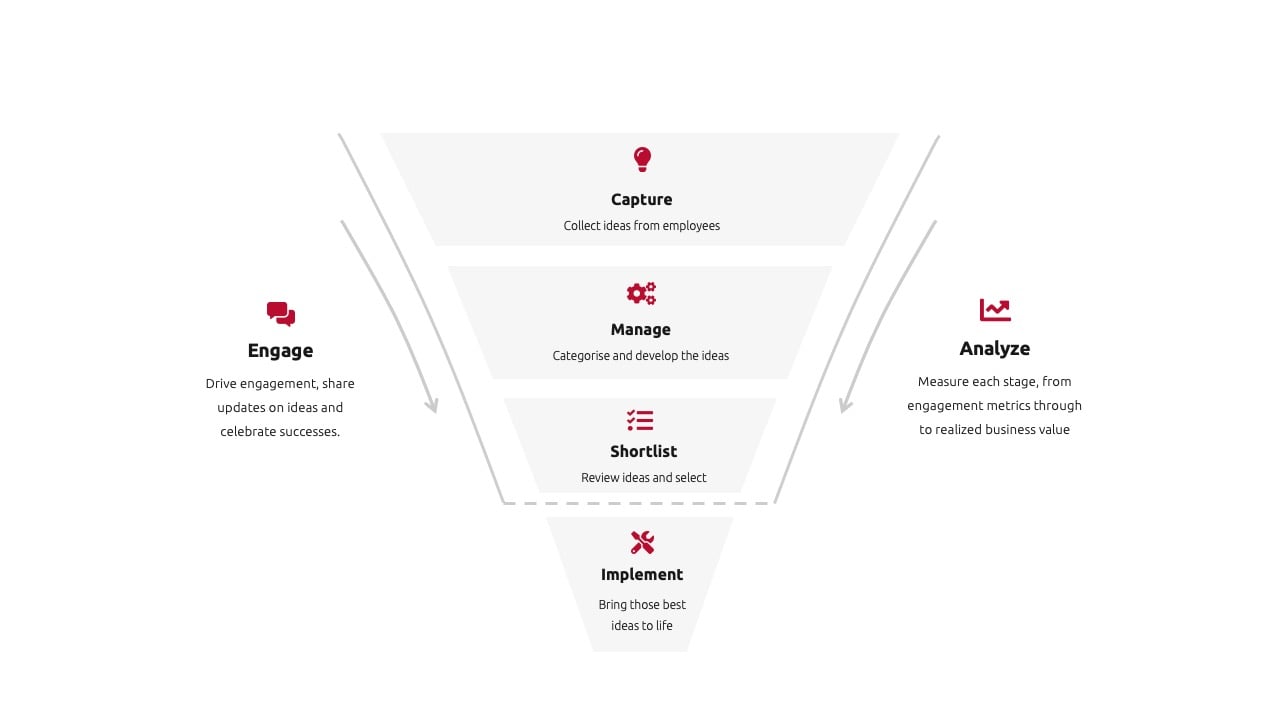 We've outlined 8 key steps for best practice in running your ideas campaign on Microsoft Teams, helping you to gather great ideas from your employees and bring these ideas to life, helping you to turn collaboration into innovation.
Plan your campaign – To run a great campaign, it's important to start with why. Understand the point of your campaign and the question or challenge you are looking to solve. Think about a timeframe, budget assignment, what are the various roles and requirements, and what are going to be the criteria to determine the success of your campaign?
Setting your campaign up– If you're using an app like Ideas by Sideways 6 or the Employee Ideas App, capturing ideas will be very easy and happen automatically. Be sure to fill out all the necessary background info with your review criteria and a description of why the company is running the campaign. We'd also suggest branding your campaign with an image and a name that is catchy and inspiring!


Launch your campaign – You can launch your campaign directly from within the app! Ideas by Sideways 6 offers a Comms function that allows you to announce the launch to your employees with customized messaging. We'd also recommend making use out of all of your media channels and private messages to really get the word out and build excitement.
Manage ideas at scale – When managing the ideas, we recommend defining various idea stages. Think of this much like a funnel, with ideas only passing through to the next stage if they meet your set criteria. The stages we recommend are: Qualify, Develop, Evaluate, Implement, Delivered (for more information on each stage, head on over to our Best Practice Guide to Running Employee Ideas Campaigns on Teams).


Find the best ideas – Shortlisting the best ideas is simple and easy in the Ideas by Sideways 6 app. Simply select the ideas you wish to send to review, set your review criteria and choose your expert panel of reviewers!
Bring ideas to life – Now the fun really begins! When implementing ideas, make sure to keep your original budget plan in mind. You may wish to whittle the number of ideas you're going to implement here; if so, we recommend using an effort vs. reward matrix to help you to make the right decisions.
Keep idea submitters engaged – It's very important to keep idea submitters in the loop. The last thing you want is your employees feeling like their idea is going into a black hole. You can use automated, personalized messaging to keep employees updated as to when their idea reaches a certain number of likes or moves into a new stage in the idea management process.
Analyze your campaign – This will very much depend on what matters to you in this process, and what your goals and KPIs were. The Ideas by Sideways 6 app has some powerful analytic features, so consider how you'd best like to measure the success of your campaign

So that was a simple overview of our recommended best practice for running employee ideas campaigns within Teams. For a more detailed Best Practice Guide to Running Employee Ideas Campaigns on Teams, have a look at this article.
Or, to hear how other companies are doing it, check out the Sideways 6 Masterclass!
---
Summary
When it comes down to it, 2020 propelled us into new ways of working, and the solution was Microsoft Teams. However, rather than merely being a 'best alternative', Teams has actually opened up new areas of opportunity, enabling businesses to innovate and collaborate on a global scale like never before.
91 of the Fortune 100 companies use Microsoft Teams.
Now, with the introduction of Teams apps like Ideas by Sideways 6 and The Employee Ideas App, there is a dedicated area in which employees can share their ideas from anywhere at any time.
---
If you found this article useful, you'd love our Webinar 'The Future of Ideas on Microsoft Teams' with Nick Heddelman from Microsoft, or perhaps you're interested in seeing what other companies in your space are doing?
If so, check out our case studies, featuring stories from the likes of Nestlé, AstraZeneca, and Kingfisher!